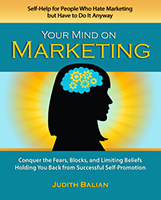 Tired of struggling with marketing? Hate the whole idea of marketing but have to do it anyway? Let me help!
With 20+ years of experience in sales and marketing for both small and large companies, I offer highly personalized, boutique marketing services for small businesses, consultants, and solo practitioners. Whether you need a complete marketing strategy or help in specific areas, I provide practical, cost-conscious ways to reach your target market and build your business. Learn more…
My book, Your Mind on Marketing: Self-Help for People Who Hate Marketing but Have to Do it Anyway, will help you push back the blocks that keep you from promoting yourself and give you practical ideas you can use right away. It even walks you through the process of creating a basic marketing plan!  Buy it on Amazon.
As a Constant Contact business partner, I can get you up and running with your own email marketing program. I'll help you maximize your current client base and find new people who want and need your services and products. Learn more…
I'd love to help you!  I can take you all the way from your initial idea through getting it written and up on Amazon.  Whether you just need a little guidance or someone to help you through the whole process, let's talk!  Learn more…
What are you doing for your creative self?  How about a class or private session to awaken your creative side and support you as you discover what you really want?  
Invest in you! I offer transformational courses based on The Artist's Way and my own unique program, Secret Selves®.   All classes use powerful expressive arts tools.   Are you in?
New classes start soon in Oro Valley and Tucson. Need some support or inspiration? Feeling a little stuck? Just ready for something new and fun?  This is the class for you! Learn more…
Does it ever seem like there are different voices inside you that are at cross purposes with themselves? Well guess what? You're normal! Join us for this brand new six-week series that's unique in every way!  You may never see yourself the same way again!  Learn more…