Self-Discovery Classes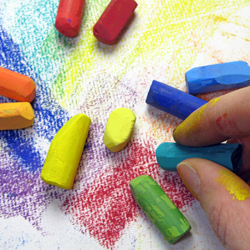 I offer many classes and workshops designed to promote creativity and personal growth. If you are interested in attending or in hosting one of these classes, please click here to contact me.
These workshops can be condensed or expanded as time permits or restricts. I can also design expressive arts classes that address the unique needs of your group. The expressive arts process is both powerful and empowering–experience it for yourself!
No artistic or writing talent or experience is necessary!
Intro to The Artist's Way Process
Feeling a little stuck?  Not sure what's next?  Maybe what you need is some help to tap into your intuition and free your creative spirit within–and yes, she's still there!  Join us for an introduction to the process that's helped millions of people worldwide move past their blocks and get on with their creative dreams.  You'll take away fun new activities you can do on your own to unlock your creativity and make new friends in this safe supportive group.
The Artist's Way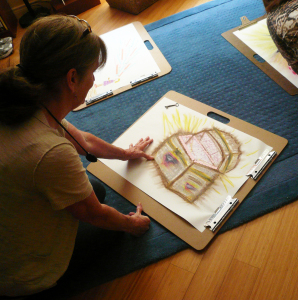 If you've ever said, "I'm not creative, this is your chance to prove otherwise! Reconnect to your creativity and passion in this multi-week transformational journey to imagination, vitality, and aliveness. The process described in Julia Cameron's groundbreaking book has helped more than a million people access their creativity and realize their dreams.
No artistic ability or writing talent is required for this class–just an open mind and a commitment to the process of unleashing your authentic, creative self. Using The Artist's Way as our basic text, we'll support each other as we shed procrastination, perfectionism, and self criticism. You'll transform your inner critic and tap into your own internal wisdom as you rediscover your own unique gifts and move toward your creative goals.
Classes meet once each week for eight weeks.  Classes normally begin in January and September. Read more here.
Introduction to Expressive Arts
Awaken your creative side!  Learn how using the expressive arts—writing, art, and movement—can open you to greater self-knowledge and your own natural creativity.  Using guided visualization, image making, expressive movement, journaling, and sharing, you'll access your intuition and your right brain as you discover new possibilities. This event is experiential, so bring your journal and a pen.  No art expertise necessary, just an open mind! (2-3 hours)
Read more about the expressive arts process.
Secret Selves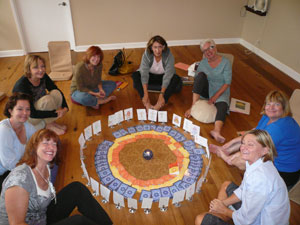 Does it ever seem like there are different voices inside you that are at cross purposes with themselves? You're normal! We all have these inner selves or Secret Selves, and each of them has a special mission, message, and gift for us. Get to know yourself as never before in this safe, supportive group. You'll learn about and understand those voices in your head that pull you one way when you know it's in your best interests to follow a different path. But the Selves are not only the limiting voices. They are also positive sides of you that would, if unleashed, take you forward to fulfill your highest dreams. Trust me on this: Each of your Secret Selves has its own purpose and gifts! Come and enjoy this playful, original journey of self-discovery.  (2-2 1/2 hours)  Note: This class is also offered as a five-week series.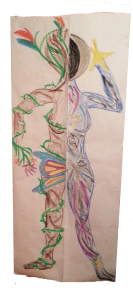 The Wisdom of the Body
Your body is more than just what you see in the mirror! It holds emotions and hidden messages you may not even be aware of. In this workshop, you'll learn ways to uncover this intelligence to foster greater self-awareness and create a healthier body/mind.  Join us as we use movement and writing to learn what our bodies have to teach us about ourselves.  Wear comfortable clothing and bring your journal. (4  hours)
Journaling for Serenity and Self-Discovery
Journaling can provide a way to greater self-knowledge, self-acceptance, compassion for others, and creativity. It can give you insights and clarity on whatever you're facing and provide inspiration to help you move forward. You can use your journal to process what happened today or what occurred decades ago that may still be impacting your life. Your journal can serve as a friend, a confidant, and even a readily-available, totally portable 24/ 7 therapist!
In this workshop, you'll learn what journaling is (and isn't), the types of journals, how to get started, how to stay motivated, how to push through writer's block, and other tips for the beginning journaler. You don't have to be a writer to journal—all you need is the desire to learn more about yourself. Bring a spiral notebook or your own journal and your favorite pen. (3 ½ hours)  Also offered online as a six-week class. 

Introduction to Movement for Self-Expression and Discovery
Learn how using movement can open you to greater self-knowledge and your own innate creativity. Authentic Movement, sometimes called Movement Therapy, is a means of self-discovery using physical movement as a means to access insight and self-knowledge.  Unlike yoga, the movement is completely self-directed, allowing us to create a bridge between the conscious and the unconscious.
We think you'll find this workshop fun and interesting–and you may just learn something about yourself that you didn't know before! No dance expertise necessary, just an open mind! Bring your journal and a pen. (3 Hours)
Making Intentions and Affirmations Work for You
It's true—you can change your life by changing your thinking!  In this workshop, you'll identify and clarify what you really want and then create the affirmations you'll need to make it happen!  We'll be using art or collage, movement, and writing, but you don't need to be an artist or a writer to enjoy this fun and empowering class.
(3 ½ hours)
Money, Money, Money!
Many of us still hold limiting beliefs about abundance that were formed in the past. Sometimes we are not even aware of these beliefs, yet they have great power to influence our current lives.By shining a light on our limiting and often unconscious beliefs, we can transform them so that they no longer restrict us.
In this class we'll use the power of expressive arts to uncover beliefs that no longer serve us and learn ways to reframe them so that they serve rather than limit us.  Through the process of identification, examination and reframing, we'll take back our power to create abundance in our lives. (2 hours)