Secret Selves®
Discover the unique and wonderful parts of you–Online and Live in Tucson!
Does it ever seem like there are different voices inside you that are at cross purposes with themselves? Well guess what? You're normal! We all have these inner selves or Secret Selves, and each of them has a special mission and message for us—even the ones we'd rather not acknowledge. Come and spend five playful weeks in a safe, cozy, fun group–online or in person, your choice–getting to know yourself as never before!
What's in it for you?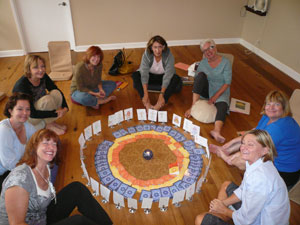 You'll learn about and finally understand those voices in your head that pull you one way when you know it's in your best interests to follow a different path. But the Selves are not only the limiting voices. They are also positive sides of you who would, if unleashed, take you forward to fulfill your highest dreams. Trust me on this— each of your Secret Selves has a gift to offer you!
♦ Transform your inner critic (even if it's on steriods!)
♦ Reclaim and appreciate your creative self (yup, you've got one)
♦ Discover that amazing side of you who's dying to come out (just who is she anyway?)
♦ Understand and honor all the wonderful sides of you (yes, ALL sides!)
Using playful expressive arts activities—but don't worry, you don't have to be an artist or have any artistic talent at all— you'll identify, explore, and give voice to your unique Secret Selves—and learn to appreciate them in the process.  
The goal here is radical self-acceptance like never before—and you'll never see yourself quite the same way again!  
How Secret Selves Came to Be
I caught my first glimpse of the Selves through my own journaling in about 2002.  Working with my own Secret Selves for over a decade has been a profound personal journey.  In 2005 I began to share the concept, first with my fellow students in the post-graduate Expressive Arts Certificate Program at Saybrook University and then in one-day and weekend workshops in San Diego and Los Angeles. In 2007 I incorporated Secret Selves into my Artist's Way classes, and in 2014 I trademarked the name.
The majority of my Artist's Way participants tell me that the Secret Selves activities are their favorite part of the course. So now, after many requests and much encouragement from people who have benefited from this work, I piloted an online version in 2021.
Secret Selves Five-Week Series – Coming in January!  Interested?  Please email me!