The Artist's Way Online and Live in Tucson!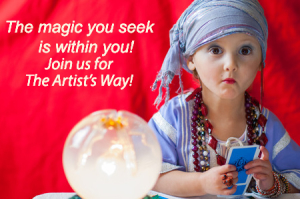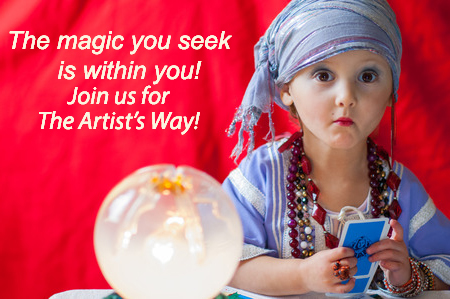 After 12 years of offering The Artist's Way in San Diego to over 500 participants, I've moved to Oro Valley in Northwest Tucson. I'm pleased to announce that I'll be offering the class both online and in a small group setting here in this beautiful setting.  
The Artist's Way is your ticket to self-discovery, reconnecting with your natural creativity, and claiming your right to live authentically.   Read what participants have to say about it.  
Using Julia Cameron's groundbreaking book, The Artist's Way, as a basic text and expressive arts activities such as image-making, writing, movement, visualization and role play, you'll open to your creative, intuitive side in this safe, supportive group. The activities are fun and insightful and are designed to help you gain self-knowledge, increase your confidence, overcome blocks, and transform your relationship with your inner critic. This class is perfect for people in a life transition—and who isn't these days?
The Artist's Way will help you:
Overcome procrastination
Tame your inner critic
Connect to your intuition
Make new friends
Have fun!
No artistic or writing ability is required, just an open mind and a commitment to connecting with your creative self.
Scroll down to register.
 Listen to an interview Barbara Eldridge did with me about the expressive arts process on Connected Women of Influence Radio. 
"This class has been an eye-opening experience. I love how safe the class feels and how much I've learned about myself. The feeling of connection within the group is amazing. I loved all of the activities we did and learned something about myself in all of them."     Kym Roessel, San Diego

"Judith, you are a great facilitator, a great listener, and a great resource.  This is clearly your passion, and it's contagious. You made it appear so effortless, but I know you consciously and carefully created the 'safety net' that allowed the magic to happen."  Cheryl Coffman, Cardiff-by-the-Sea, CA
Many of my participants tell me this is the best class they've ever taken—in fact many people have taken it more than once!  More testimonials from past participants…
Frequently asked questions about the class…
If you're interested in being on the mailing list to get information about this class, please contact me.  I welcome the opportunity to help you decide if The Artist's Way is right for you!